Am I a CoolSculpting Candidate?
Find out if you are a CoolSculpting Candidate by answering five simple Yes or No questions. We stand behind our work with our Real Results Promise™.
Responses to all fields are required to evaluate if CoolSculpting is a good fit for your personal goals.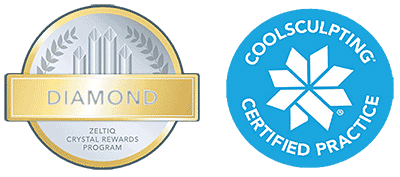 Disclaimer & Patient Safety Information: Patient pictures showing Before and After results are actual patients – individual results vary. Client testimonials are based on personal experience and are the opinion of individual clients. Any claims made on this website are intended to provide information about procedures provided here. Realistic individual results will be discussed with you based on your information with an initial consult with a doctor or healthcare professional provided for your free consultation. The information provided is NOT intended as medical advice and is for your general knowledge only.
We stand behind our work with our Real Results Promise™. The CoolSculpting procedure is FDA-cleared in the U.S. for the treatment of visible fat bulges in the abdomen, chin/submental area, thighs, flanks, bra fat, back fat, fat underneath the buttocks (also known as banana roll) and upper arm. CoolSculpting is the treatment doctors use most for non-invasive fat removal. Click HERE for patient safety information.
ZELTIQ, CoolSculpting, the CoolSculpting logo and the Snowflake design are registered trademarks of ZELTIQ Aesthetics, Inc. © 2017. All rights reserved.