Are you wondering: "What if CoolSculpting® doesn't work for me?"
We understand! That's why we created our Real Results Promise. CoolSculpting is a recent development in fat reduction. There is always some concern that new technology may not work. You may be concerned that it may not work for you.
To ease your concerns, we have created our Real Results Promise™. Although millions of successful CoolSculpting treatments have been performed worldwide, what is most important to the New Radiance CoolSculpting team is that YOU get results.
At New Radiance Cosmetic Centers, we are committed to providing you with CoolSculpting results to achieve your personal goals. We stand behind our work and your results with our Real Results Promise™:
If you invest in fat reduction with CoolSculpting and follow your treatment plan but it doesn't show results, we will perform another round of CoolSculpting treatment on you for free. It's the right thing to do. Our promise is straightforward and outlined below:
We will provide a free round of treatments on the target area if no results are seen after following your recommended CoolSculpting individual treatment plan. There is a 2 lbs maximum weight gain limit after treatment.

We will refund 50% of your initial tr

eatment cost if no results are seen after your free treatment.
Our experience with the many successes we have seen with CoolSculpting make us confident that the treatment can help you achieve your personal goals.
Book a free consultation today to find out what our Certified CoolSculpting Specialists can do to help you achieve your goals! Consultations are free and our work is backed by our Real Results Promise™.
Book a Free Consultation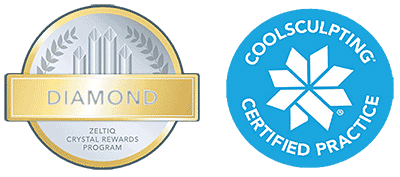 Disclaimer & Patient Safety Information: Patient pictures showing Before and After results are actual patients – individual results vary. Client testimonials are based on personal experience and are the opinion of individual clients. Any claims made on this website are intended to provide information about procedures provided here. Realistic individual results will be discussed with you based on your information with an initial consult with a doctor or healthcare professional provided for your free consultation. The information provided is NOT intended as medical advice and is for your general knowledge only.
We stand behind our work with our Real Results Promise™. The CoolSculpting procedure is FDA-cleared in the U.S. for the treatment of visible fat bulges in the abdomen, chin/submental area, thighs, flanks, bra fat, back fat, fat underneath the buttocks (also known as banana roll) and upper arm. CoolSculpting is the treatment doctors use most for non-invasive fat removal. Click HERE for patient safety information.
ZELTIQ, CoolSculpting, the CoolSculpting logo and the Snowflake design are registered trademarks of ZELTIQ Aesthetics, Inc. © 2017. All rights reserved.